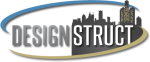 Long Business Description
WELCOME TO DESIGNSTRUCT
Designstruct is a full service Design-Build general contractor , specializing in the Midwest market for a variety of project types.
Our expertise  and job experience range from concept design development and construction, to prototype rollouts of national and regional chain operations.
THINK. DESIGN. BUILD.
We recognize the demands  of franchise, corporate and single location construction projects.
Our mission is to recognize the dynamic nature of the construction industry and management protocols, its relationship to the economic conditions and the need for creative, experienced and adaptable companies to serve small/mid size projects, are greater mission is to provide cost effective customer driven construction services in the Midwest market area for a variety of project types.
Business Address
23617 John R Rd, Hazel Park, MI
48030

Business Address
350 W 8 Mile, Hazel Park, MI
48030 Business Address
31701 Research Park Dr
Madison Heights MI
48071