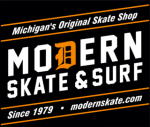 Long Business Description
Established in 1979.
Modern Skate and Surf was founded in 1979 by George Leichtweis. We specialize in equipment and accessories for snowboarding, skateboarding, inline skating, scooters, and wakeboarding. Modern skate was one of the first three inline skate shops in the world, along with being the first snowboard and wakeboard shop in Michigan. Additionally, Modern is still one of the longest-standing skateboard shops in the state.
Our Royal Oak park, completed in 2008, features over 1-acre of ramps and rails, including a wooden bowl made by world-renowned builders Team Pain. Modern Skate & Surf was one of the main driving forces behind the fund-raising for Ranney Skate Park in Lansing, MI.
Modern Skate & Surf has the best inventory of skate gear for sale in Michigan, and we also offer a place for our customers to show off their new gear! Our world-class skate park in Royal Oak was created to meet the needs of every skater, biker, inline skater, and scooter who walks through our doors. At Modern Skate & Surf we pride ourselves on knowledge, service, and selection. Come to Modern Skate Park with friends or come alone and make friends while skating! Join us in clinics, private lessons, session times, private parties, memberships and so much more! We have been serving Michigan, the Midwest, and the rest of the world since 1979. We carry a large selection of products to meet all of your Snowboarding, Skateboarding, Inline Skating, Scooter and Wakeboarding needs. Throw your next birthday party, holiday party, school event, trade show, or concert in one of our party rooms!
Send Message to listing owner